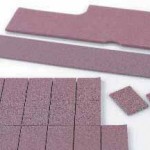 Group of highly thermally conductive Softtherm films. These films are characterized by low thermal transitions with good dielectric behavior and a good compressibility.
With its outstanding thermal conductivity and very good compressibility the film is very well suited for these types of applications. The material's good formability reduces mechanical stress on the power components.
Both materials are optionally available with an one-sided adhesive as 86/525K and 86/600K.
Possible Thickness:
86/525: 0.5mm – 3.0mm
86/600: 0.5mm – 1.5mm (EOL)
Applications
Automotive

Stress Sensitive Components
LED Applications

Computer Technology
Property
Symbol
Unit
86/525
86/600 (EOL)
* – Youngs Modulus sample size 30x30x2.5mm3;- variable contact pressure;- compression 50% of measured thickness;
Color
violet
gray
Thermal Properties
Thermal Resistance
Rth
K/W
0.22
0.20
Thermal Impedance
Rti
°Cmm²/W
Kin²/W
89
0.14
80
0.12
Thermal Conductivity
λ
W/mK
5.5
6.0
Electrical Properties
Breakdown Voltage
Ud;ac
kV
1.25
1.5
Dielectric Breakdown
Ed;ac
kV/mm
2.5
3.0
Volume Resistivity
Ωm
16×1013
1.7×1010
Dielectric Loss Factor
tan δ
1
1.0×10-3
2.5×10-3
Dielectric Constant
εr
1
2.7
2.5
Mechanical Properties
Measured Thickness
(±10%)
mm
0.5
0.5
Hardness
Shore 00
50 – 65
60 – 75
Youngs Modulus*
N/cm²
99
77
Physical Properties
Density
 ρ
g/cm3
1.18
1.28
Application Temperature
°C
-40 to +180
-60 to +180
Single-side Adhesive
optional
86/525K
optional
86/600K
Assembling
single-layer
w/o fiberglass
single-layer
w/o fiberglass
Flame Class
UL
94V-0
94V-0
Total Mass Loss
TML
Ma.-%
< 0.35
< 0.40