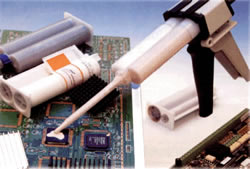 Ceramic-filled two-component silicone elastomers offer a new and unique way to apply thermal interface materials without any stress on the covered components. The possible application with hand held tools or automatic dispensing equipment allows the use in small and large production volumes. In addition, the curing at room temperature allows for "Wet-in-wet" production of even the most delicate components.
Customer specific solutions for the compound technology and processing technology is our strength. Kerafol has worked with the manufacturers of modern dispensing technologies allowing the application of heat conducting material onto the most diverse heat sinks or custom-specific components. Just Contact Us and we will be happy to help you in finding a solution.
Available in 50ml syringes, larger cartridges and cans.
Applications
RD-RAM Modules

Chipsets

memory chips

heat pipe thermal solutions

high voltage electronic components
GFU 15> Encapsulation

GFU 15> Electric Vehicles

GFU 15>High energy rechargeable batteries

GFU 15> Room Temperature Curing

GFU 15> Liquid Assembly
Property
Symbol
Unit
GFL 3020
GFL 3025
GFL 3030
GFL 3040
GFL 1800SL
GFU 15
Base Material
silicone
silicone
silicone
silicone
silicone
silicone free
Color
yellow
orange
green
lilac
green
orange
Mixing Ratio
1:1
1:1
1:1
1:1
1:1
1:1
Viscosity
Pas
45 – 70
45 – 75
50 – 80
55 – 85
2 – 7
A/B: 140-160
Curing
h@RT
1
1
1
1
1
<24
Technical Properties
Thermal Resistance
Rth
K/W
0.7
0.5
0.41
0.29
0.69
0.8
Thermal Conductivity

l

W/mK
1.8
2.5
3.0
4.0
1.8
1.5
Breakdown Voltage
Ud;ac
kV
10.0
8.0
6.0
5.0
7.5
8
Dielectric Breakdown
Ed;ac
kV/mm
20.0
16.0
12.0
10.0
15.0
16.0
Measured thickness
mm
0.5
0.5
0.5
0.5
0.5
Hardness
Shore 00
45 – 60
65 – 85
65 – 85
65 – 85
55 – 75
65-85
Physical Properties
Application Temperature
°C
-40 to +200
-40 to +200
-40 to +200
-40 to +200
-40 to +200
-40 to +80
Density
g/cm³
2.3
2.83
2.94
3.05
2.3
2.3
Total mass loss (TML)
Ma-%
0.19
<0.09
<0.06
<0.09
<0.17
Flame rating
UL-94
V-0
V-0
V-0
V-0
V-0
V-0
Possible thickness
mm
0.2 – 5.0
0.2 – 5.0
0.2 – 5.0
0.2 – 5.0
0.2 – 5.0
0.2 – 5.0