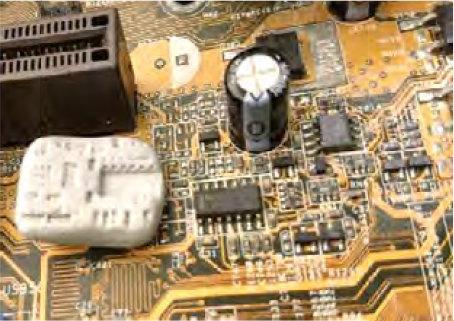 EAPUS Material
EAPUS Technology offers cost effective thermal interface materials in a wide range of types.
They offer films, gap fillers and putty. Putty is a unique material type that allows for very low pressure to sustain any desired compression value.
EAPUS makes their materials available in a wide range of thicknesses.
Applications
Telecommunication Devices

Smartphone

Tablet

Notebook

Computers

Storage Devices
Flat Panel Displays (PDP, LCD)

Power Industries (SMPS)

Projector

Automotive

Optical Equipment

Medical Equipment
Property
Unit
RS300
MA500
AB150AP
MA700P
Color
yellow
lavender
white
gray
Base Polymer
Silicone
Material Type
gap filler
gap filler
film
putty
Material Specifics
one side tacky
one side tacky
one side adhesive
conformable
Thermal Properties
Thermal Conductivity
W/mK
3.3
3.0
1.3
5.0
Thermal Impedance
°Cin²/W @30 psi
measured thickness
0.43
0.5 mm
0.31
0.5 mm
0.22
0.15 mm
0.18
0.5 mm
Electrical Properties
Dielectric Breakdown
kV/mm
6
6
3
6
Volume Resistivity
MΩ m
1012
1012
1012
1011
Mechanical Properties
Thickness
mm
0.3 – 5.5
0.3 – 5.5
0.15
0.5 – 3.0
Density
g/cm³
2.8
2.9
2.9
3.1
Hardness
Shore 00
33
42
84
–
Tensile Strength
MPa
0.08
0.12
0.19
0.1
Elongation
%
158
189
20
–
Physical Properties
Application Temperature
°C
-40 to +180
-40 to +180
-20 to +70
-40 to +180
Total Mass Loss
Ma.-%
0.13
0.11
–
0.11