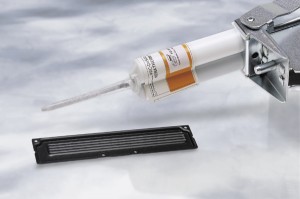 Notes and Precautions
Silicone sealing compounds are physiologically safe
No irritation to the respiratory system when used in sealing compounds
Avoid contact with skin
Silicone hardeners/curing agents are physiologically safe
We recommend the use of protective industrial ointment
See Also: Keratherm Sealing Compounds
Pre-treatment:
The parts should be dry, clean and grease-free.
Preparation:
The silicone sealer compounds contain filler materials which may show sedimentation, depending on the storage temperature.
Mixing:
Kerafol's silicone sealing compounds and their silicone curing agents (component B) must be mixed in the prescribed proportions. After intensive mixing with a suitable stirrer, the compound is immediately ready for use.
The use of cartridges is not recommended, since mixing of the components by a static mixer can no longer be performed. During the mixing process ensure that no air is brought into the material. Avoid long standby times. Pay attention to the specified processing times. Silicone compounds are moisture-sensitive. After mixing, sealing compounds should always be evacuated for a period of at least 10 minutes at less than 100 mbar.
Application:
The processing time ranges from approx. 25 minutes up to 3 hours! The viscosity will increase slightly during this time, so you should only prepare as much material as you can process within this time. If the silicone sealing compound will be processed by means of doping equipment, then it is possible to adjust the processing time with the aid of accelerators. Processing of the compound beyond this time should be avoided since the processing conditions will continuously change due to the curing process. (viscosity increase, viscidity of the sealing compound, etc.)
CuringConditions:
48 hours at room temperature or max.1/2 hour at 80°C; refer also to the curing times specified on the datasheets. The heating regime for room temperature onwards should not climb faster than 5 K/min. When tempering or post-curing incompletely cured sealing compound, entrapped air can expand and cause smoke formation. It is therefore important to ensure that no bubbles are formed during dispensing. When curing at room temperature, please note that heat treatment can change the hardness slightly. Silicone sealing compounds that have been cured at room temperature should not be stressed mechanically and electrically before approx. 4 days waiting time.
ShelfLife:
At least 6 months in original packaging. When opened, the contents should be used as soon as possible since, due to the influence of humidity, the reactivity of the material can diminish.